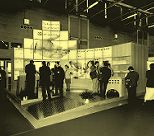 Projects
Subjects
The projects organised so far by Rose International cover a great variety of subjects, including e.g. blood transfusion, libraries, ophthalmology, human genetics, photogrammetry and remote sensing, geosynthetics, salt, anaesthesiology and intensive care and many others.
New fields and pilots
The constant challenge of new fields keeps Rose International alert and adaptable to new situations. Many new subjects benefit from the already existing experience of Rose International in related fields. A pilot survey can usually be done within a couple of weeks.
Cities where we already operate:
Amsterdam
Barcelona
Birmingham
Buenos Aires
Florence
Geneva
Gothenburg
Istanbul
Jerusalem
Lisbon
Maastricht
Munich
Nice
Nürnberg
Prague
Strasbourg
The Hague
Vienna
Washington